Two reasons why I like daypacks:
1. They streamline our lives - their innate size challenges you to subtract rather than add. A good philosophy for life.
2. They are full of potential - whether literally or figuratively they hold so much promise to satisfy our needs; basic and extravagant (daypack full of sourdough anyone?)
Come to think of it I'm pretty sure I own more daypacks than any other piece of equipment. I literally have no more space for all my bags. The irony!
However, despite these revelations I still want one of these new Osprey hikelites.
They are available in two exclusive colourways:
Kumquat Orange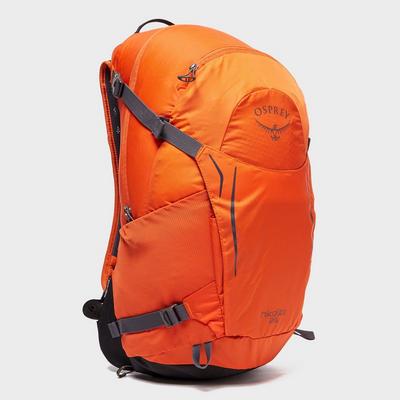 Litres
26
Weight
730g
Dimensions
48cm(l) x 28cm(w) x 28cm(d)
Special Features
Shove-it pocket
Price £80
Elderberry Purple
Litres
18
Weight
670g
Dimensions
46cm(l) x 24cm(w) x 28cm(d) Price £70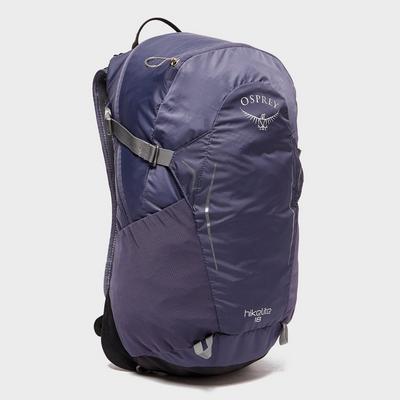 I'm a big fan of experimenting with colour when in the country (spot me in all orange!). I dress so safe in the city (grey, blue, black) that I like my outdoor clothes to really sing.
ANYWAY last week we went out to test these new packs in Upper Derwent Water (where the Dam Busters practiced) in the Peak District and I was very impressed indeed. If you're not already sold, carry on reading for all the features plus lots of photos. Enjoy!
Back System
Osprey has a reputation for making comfortable packs. It's an obsession bordering on monomania which has seem them lead the ventilated market for over 15 years. Anyone who has read my review of the Aether AG 85 knows that I'm a big fan of their packs and the hikelite is no exception.
The hikelite adopts Osprey's AirSpeed™ Trampoline suspended backsystem. A mouthful, I'm sure you'll agree but fortunately it's a lot more than just a fancy name.
Using a taught mesh bungee material (hence trampoline), the AirSpeed™ cleverly suspends the packs load away from your back; not only re-distributing the weight more equally but also creating a really big air channel for better ventilation.
Combine this with the padded shoulder straps, fully adjustable sternum strap, removable hipbelt, compression straps, load lifters and altogether you have one hell of a comfortable daypack.
Bearing-in-mind the AirSpeed™ is only Step 1 in Osprey's 4-step plan (Osprey are launching 3 more lightweight bags next year) which they call, 'The Ventilated Pinnacle' (a diabolical scheme for total daypack domination); then I'm very excited to find out what Osprey have in store for us next season.
Storage
Within the main compartment of the pack, the Osprey hikelite features a hydration sleeve, but can easily double-up to store your map or other walking essentials. External to the main compartment you'll find three pockets, one scratch-free pocket, and two PowerMesh™ pockets, the 26L pack also features a Shove-It pocket.
Scratch-free Pocket The scratch-free pocket has a zip closure and sits on the front of the pack, in here is another small compartment ideal for a mobile, and a key attachment clip, great for ensuring valuables don't get lost on the hillside.
PowerMesh™ Pockets The two PowerMesh™ pockets are situated on either side of the pack. Generous in size, stretch and durability means they're great for storing any kit you need to hand quickly. The PowerMesh™ pockets hold 1 - 2L water bottles with ease and are deep enough to ensure nothing falls out when you encounter tricky terrain.
Shove-it Pocket The 26L pack also features a Shove-It pocket, a substantial space for packing waterproofs or fleeces that are easy to reach when the temperamental British weather hits.
Additional Features
Hiking Pole Attachments As well as walking pole loops at the base of the bag, the compression straps further up the bag double as walking pole attachments. Practical and efficient features like this makes the pack highly versatile without the extra weight.
Hydration Sleeve The hydration sleeve is situated within the main compartment of the pack, accompanied by an internal loop to secure your reservoir meaning any unwanted movement is restricted. Additional loops on the straps of the bag secure your reservoir tube whilst keeping it easily accessible on the hill. A hole at the base of the bag guarantees any unwanted leaks can escape, ensuring your kit stays dry.
Rain Cover The pack includes a detachable rain cover with toggle attachment; great for reducing weight in fair-weather and for keeping it securely on the bag in windy conditions (had a few of these in Derwent!). With elasticated edges and an adjustable drawstring, the rain cover can easily adapt to your pack, whether you're using it to capacity or just for the necessities.
Lightweight Peripheral Frame Similar to the Stratos, the hikelite has a lightweight peripheral frame which helps suspend the backsystem. I also found it helped the bag stand-up on its own though this isn't a recognised feature by Osprey. The frame is zipped into the bag at the back near the lid but is not designed to be taken out. You have been warned!
This pack is so much more than just a sum of its parts, however. It's the functionality combined with the proprietary technology which elevates this bag beyond your everyday rucksack. Whether hiking, cycling or just running errands in the village the hikelite prepares you for a life outdoors.
So there you have it! An in-depth look at the best features of the Osprey hikelite. Thanks for reading and as a treat for making it this far here is a chance to win one of your very own 18L hikelites in our Facebook Giveaway.
Click on the image below for a chance to win!
GOOD LUCK!