The theory behind the layering system is that several thin layers of clothing will trap heat far more efficiently than fewer thick layers; keeping you warmer. Layering allows you to make quick adjustments based on changes in the weather and your activity levels, leaving you feeling warm, dry and comfortable. If you are feeling cold, add a layer, if you feel hot, take a layer off, it's as simple as that.
Traditionally the layering system has been explained as a 3-stage concept as we demonstrate in the illustration below. However, you can adapt the process to suit your individual needs and varying climates by adding as many layers as you like.
How It Works
Layering works by trapping warm air between each layer of clothing. This forms a microclimate that surrounds your body to keep you warm. Breathable fabrics also transport perspiration away from the skin, allowing it to breathe so you remain dry and comfortable.
Moisture transportation occurs because everything in nature moves toward equilibrium. Hot air moves toward cooler regions and moisture moves toward drier areas. Therefore, moisture with a higher concentration of heat and humidity (such as that generated in a jacket when exercising) will move towards an area of lower concentration/lower temperature (outside the jacket).
Let's explore each layer in more detail…
The baselayer is the foundation of any successful layering system. It carries sole responsibility for transporting moisture away from the skin; dispersing it through the fabric to the next layer. This transportation allows the body to stay cool when exercising and prevents a chill when resting. Merino wool, polyester and polypropylene make up technical base layers, each having their advantages and performing far better than standard cotton which holds perspiration, causing you to feel cold and clammy when resting.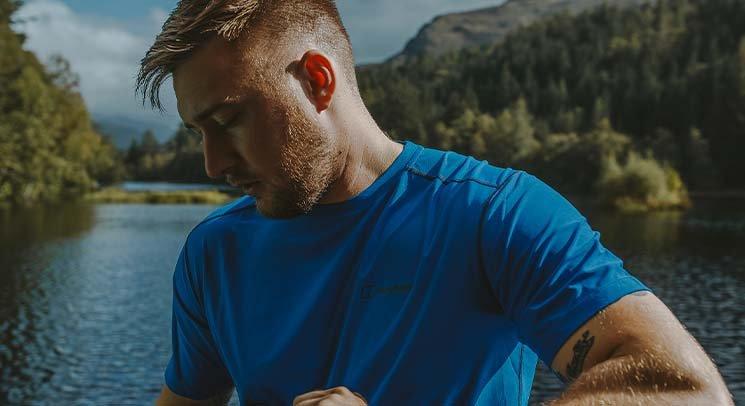 Polypropylene wicks moisture from the skin the fastest but needs to be close fitting to work properly. It's extremely lightweight and works best for high exertion activities or if you sweat a lot.
Polyester is a good all-rounder but tends to hold onto odours unless other anti-microbial fibres are added to the blend. It's good for day hikes or activities where you can wash it afterwards.
Merino wool is a great insulator, keeping you warm in colder, exposed conditions. Merino wool is also naturally anti-microbial and wicks moisture away well, making it a great choice for longer expeditions where you need to travel light and can't wash your kit regularly. As it's a natural product made from sheep's wool, it's also more sustainable than its counterparts.
The midlayer works as an extension of the baselayer. It continues the transportation of moisture from the undergarments and provides further insulation to help body heat. It can take the form of both lightweight and midweight fleece layers, or low profile insulated jackets in more adverse conditions.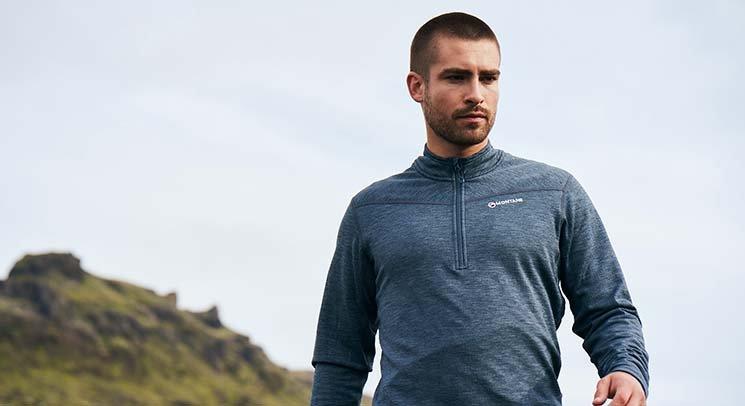 Lightweight fleece layers often come in half or quarter-zip style and are made from thin, stretchy fabric that aids your freedom of movement on the hill or trail. They prioritise breathability and cope well with fast-paced hikes and mountain ascents.
Midweight fleeces are thicker and more insulating than their lighter cousins. Their soft and comfy fabrics are ideal for cold days where you're less active, such as casual walks and setting up camp.
Insulated jackets are best suited to the coldest days. They contain either synthetic or down insulation which traps your body's heat. Insulated jackets come in a range of thickness options, but you should opt for a low-bulk one that will fit comfortably underneath an outer layer for use as a midlayer in your outdoor layering system.
The outer layer or shell is your principal barrier from the weather. It should allow air to circulate and permit moisture to escape. For dry conditions, a breathable, wind and water-resistant softshell is generally sufficient. When there is a chance of rain, a waterproof rain jacket made in a breathable and waterproof fabric such as GORE-TEX® is essential.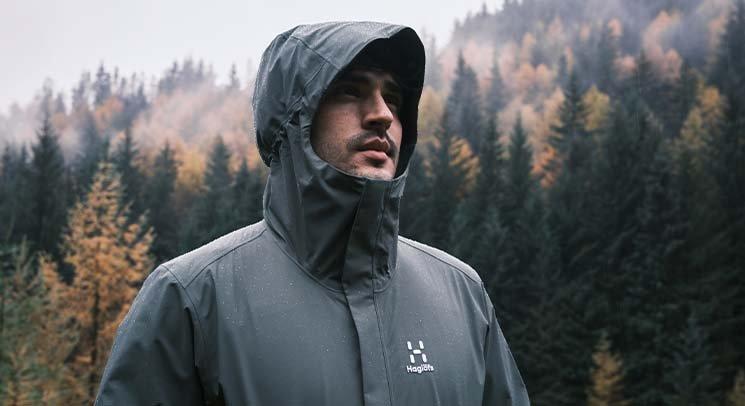 Softshell jackets are made from stretchy, breathable fabric that is coated with a Durable Water Repellent (DWR). This helps them protect you from light, brief showers.
Waterproof jackets are better equipped to deal with rain that's here to stay. They are made up of two to three layers depending on their quality and waterproof performance. As well as a DWR coating, a waterproof jacket also has a waterproof membrane that shields you from external moisture while allowing water vapour exit from inside the jacket.
Quick Tip
It is vital to ensure that each layer you wear is breathable, so moisture can travel between the layers and escape through the outer shell. If moisture becomes trapped before it can move away from the body, it will cool down and cause a chill. Remember to choose a baselayer made from a performance fabric that wicks perspiration away from your skin to the other layers – sometimes old cotton t-shirts don't cut it.