It's easy to see the appeal of sleeping under the stars surrounded only by the great outdoors. That's why outdoor enthusiasts have been ditching the beaten track and saying no to campsite luxuries in favour of a more wild weekend.
But is wild camping legal? And if it is, where can you go? The rules can be confusing and off-putting, so we've put together a handy guide containing all the need-to-know info for beginners and a handy printable kit list to help you pack.
What is Wild Camping?
Wild camping means getting beyond the campsite and pitching up on your own in the wilderness. It can be as adventurous as you want to make it, but it will mean ditching the showers and the electrical hook-up. Away from artificial campsite light you'll see a million stars and waken in the silence of an undisturbed morning. Wild camping will teach you self-reliance; it'll give you some real headspace for yourself, and it makes for a great story.
Is Wild Camping Legal in the UK?
In Scotland the right-to-roam laws give you the scope to wild camp pretty much anywhere that isn't private land.
In England, Wales and Northern Ireland wild camping is more of a legal grey area. There is no formal 'wild camping law' and, as all land is owned, unsanctioned camping is trespassing. Theoretically, permission must be gained from a landlord before camping. In reality, many people choose to take the chance, accepting a middle-of-the-night eviction as one of the risks (thrills?) of wild camping.
The exception is Dartmoor, where wild camping is wholly legal in a lot of places. Even better, the Dartmoor National Park Authority have developed a map that shows you the areas open for a wild night's stay.
If you do take the chance on wild camping elsewhere, remember that any refusal to immediately remove yourself from owned land constitutes a criminal offence. Generally, though, wild camping takes place in the middle of nowhere and there is a widely assumed tolerance as long as you act respectfully.
When should I go wild camping?
With the right equipment and experience wild camping can be a year-round activity. Remember though, the very point of this is to be self-sustaining and independent, which brings risk. If you are not a confident camper, and if you don't have gear that's sufficient for extreme temperatures, then confine your wild camps to the clement spring/summer nights.
Also, regardless of your proficiency, always ensure that you have a fully charged mobile phone with you. And always tell someone where you are going!
Wild Camping Kit List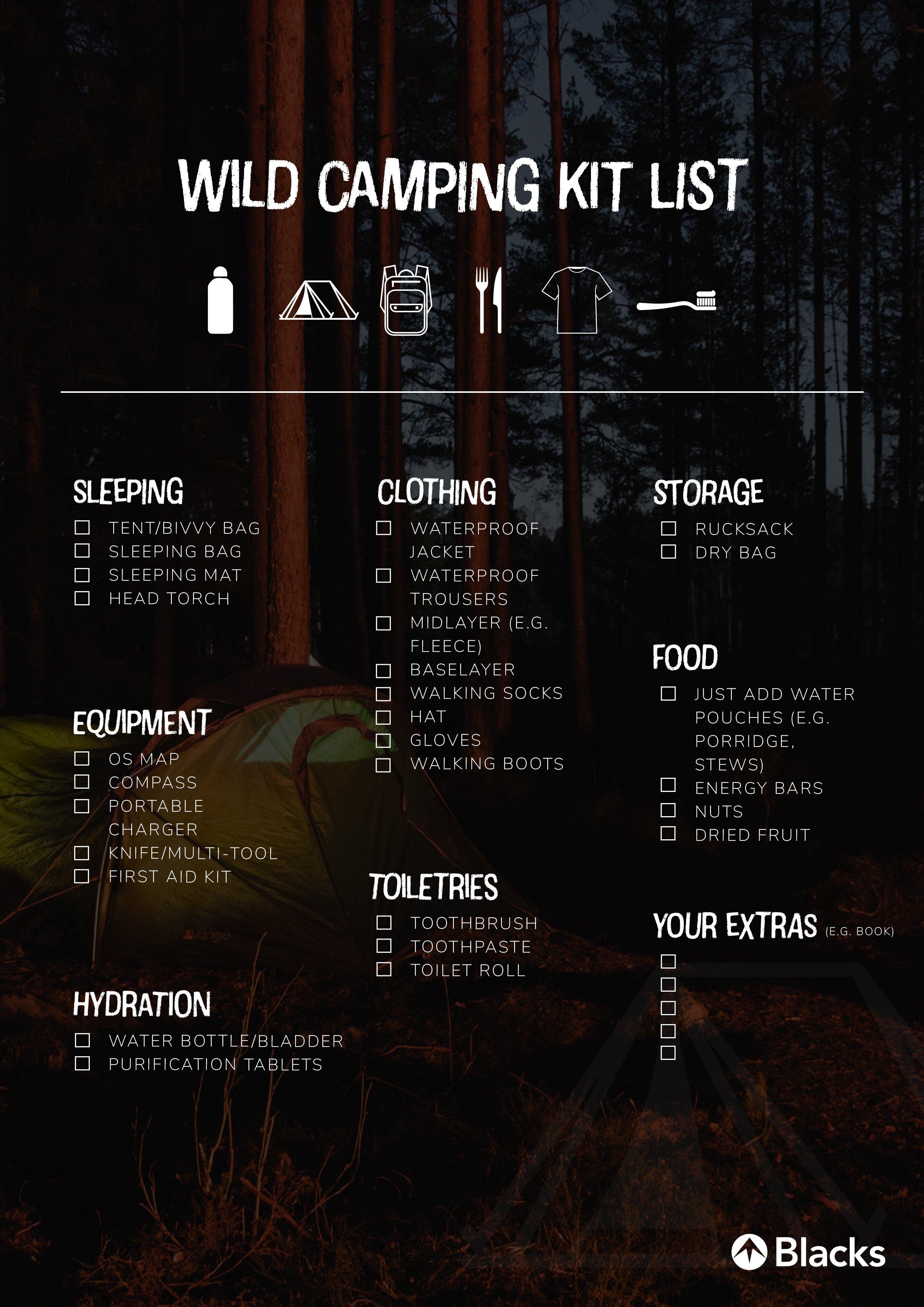 We've all heard the phrase 'failing to prepare is preparing to fail'. Well, that couldn't be truer when it comes to wild camping. After all, it's not like you can ask the camper next door if you can borrow their map.
We've put together a helpful Wild Camping Equipment Checklist that you can use to help you pack. You can download an ink-friendly printable version here.
Sleeping
Tent – A lightweight and robust backpacking tent is best. We would recommend that you take something you can easily carry, concentrating on weight and pack size. If you really want to cut down, opt for a bivvy bag.
Sleeping bag – In colder months you will want a 3 or 4-season bag that will keep you fully insulated. In the summer you should opt for 1 or 2-season bag.
Sleeping mat – This is an essential to keep you warm and comfortable. Our sleeping mats range from simple roll up options to self-inflating mats.
Head torch – The moon and stars are your only light sources in the wild. You'll need a head torch, and don't forget the spare batteries.
Clothing
Waterproof jacket – There's no such thing a bad weather, just bad kit. You'll need a reliable waterproof to keep you dry if it rains.
Waterproof trousers – It's no good keeping your top half dry if your lower half is wet through. Luckily our range of waterproof pants will keep you dry.
Walking boots – Going off the beaten track can include long periods of walking over varied terrain. Make sure you have a quality pair of waterproof walking boots.
Midlayer – A warm fleece will keep you warm and comfortable as the temperature drops.
Baselayer – Perfect for staying warm as well as wicking-away sweat if you're planning a long walk before you get bedded down for the night.
Walking socks – There's not much worse than cold feet when you're camping, but blisters are certainly up there. A good pair of walking socks will prevent both.
Hat – Useful in summer and essential in winter, a wooly hat will help you stay warm way after the sun has gone down.
Gloves – Trying to cook or pack up your kit with cold hands is miserable. Be prepared and have some thermal gloves on hand.
Storage
Rucksack – Pick a comfortable pack with a strong water resistency that's big enough for all of your kit and food supplies. If you're expecting bad weather, a pack with an integrated rain cover will come in very handy.
Dry bag - When you're out in the middle of nowhere it's essential to keep your kit dry. Dry bags are super light and come in a range of sizes. Pro tip - they also make a great makeshift pillow!
Cooking
Camping stove – You'll need boiling water. A camping stove is quick, convenient and can be packed away to leave no trace.
Spork – An all-in-one cutlery option that saves weight and space.
Bowl & mug – If you want a cup of coffee with your evening meal, you'll need both. Many sets come with both and are stackable to save space.
Matches & lighter – It's not overkill to take both. Lighters can smash and you can't use a wet match.
Cleaning sponge – Just because you're out wild camping doesn't mean you can skip the washing up!
Hydration
Water bottle – Staying hydrated is key. Make sure you bring a water bottle or bladder.
Water purification – Part of the charm of wild camping is using natural water sources, but you'll need to make sure that water is safe to drink.
Food
Just add water pouches – Quick, convenient and surprisingly delicious. You'll be amazed how much choice there is.
Snacks – Nuts, energy bars, dried fruit – whatever takes your fancy. Just make sure it's not likely to get squashed or go off.
Equipment
OS map – Don't rely on your phone to know where you are. Technology can break, but an OS Map will never let you down.
Compass – Knowing your bearings is crucial when going off the beaten track.
Portable charger – A power bank lets you charge your devices without a mains hook-up. Even if you're turning your phone off for the night, make sure it has battery for emergencies.
Knife/Multi-tool – A Swiss Army Knife
Toiletries
Toothbrush & toothpaste – If you're lacking space, opt for chewable toothpaste and cut the handle off a cheap toothbrush.
Toilet roll – It's not glamourous, but unless you're going truly wild it is necessary. Remember to dispose of it properly on your way back to civilisation.
Is there a general wild camping code?
Being considerate is the golden rule when it comes to wild camping in the UK. Remembering the following six principles will ensure you have an authentic experience without disturbing nature.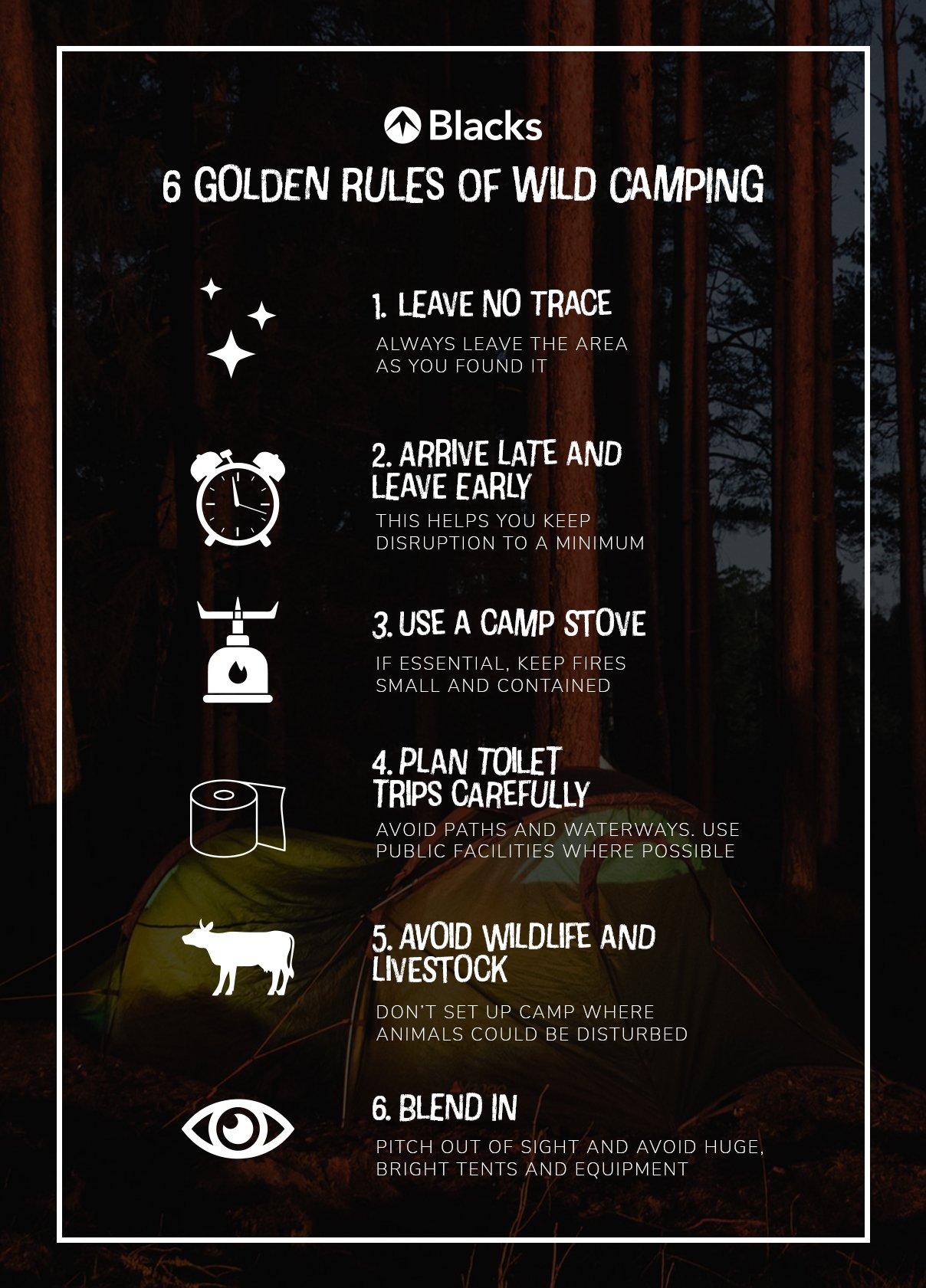 So, the world is yours for the taking. Just remember to be safe, be respectful, and leave no trace!