A simple pair of outdoor trousers can make a big difference to your comfort when you're hiking, both on and off the trail.
We're here to show you why it's time to ditch the jeans in favour of something more practical, lightweight and versatile.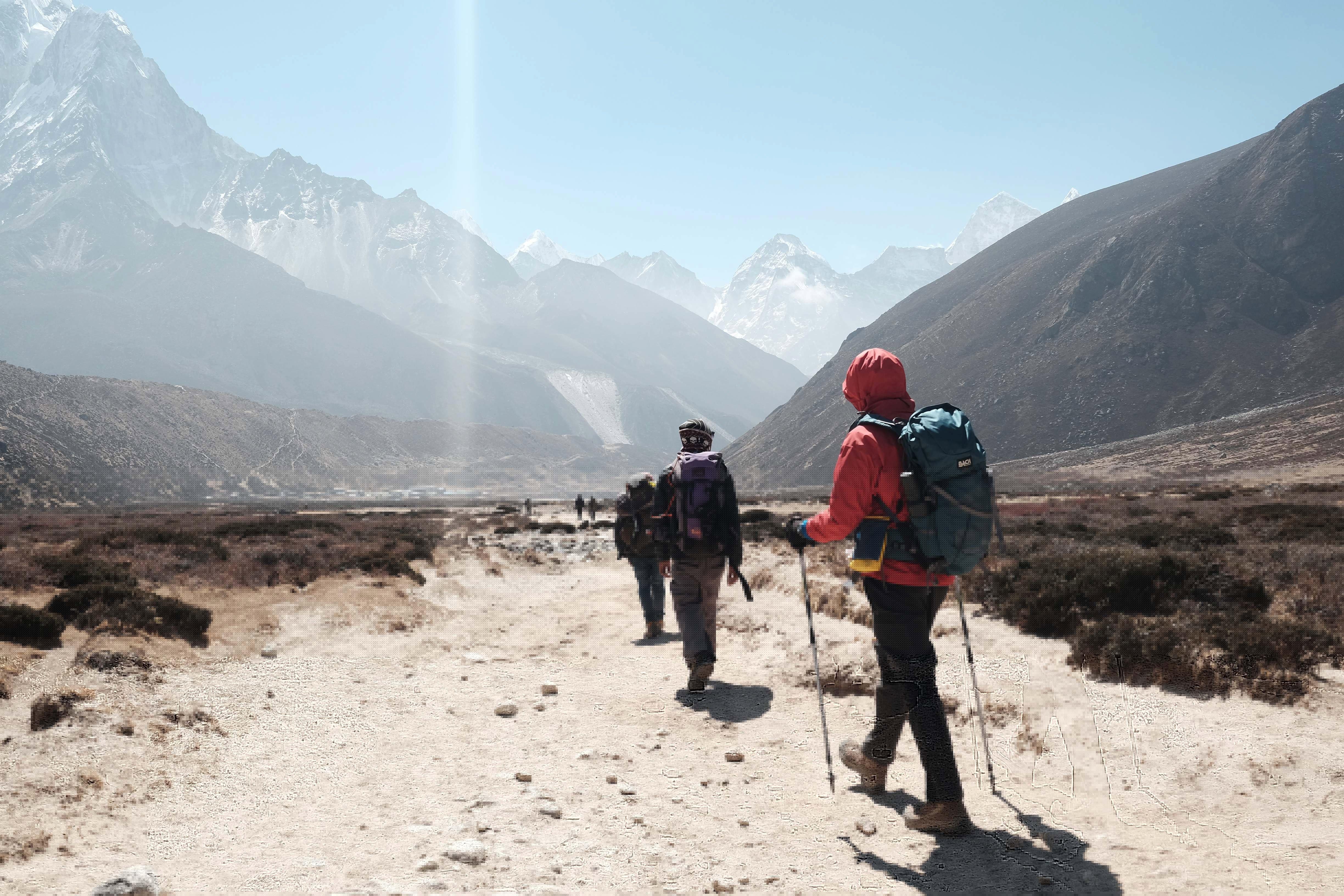 What are outdoor trousers?
Jeans are great, they look good and are pretty hardwearing. However, they weren't designed for walking, hiking or climbing and can cause discomfort in such situations.
If you want to avoid chafing and restricted movement, get yourself a pair of outdoor trousers that have been created specifically for the job. Outdoor (or walking) trousers are constructed using hardwearing, flexible fabrics that give you freedom to stretch, bend, leap and clamber around the hillside in complete comfort.
As well as flexibility and breathability, you'll also benefit from the robustness of outdoor trousers. The durable fabric construction prevents abrasion damage and shelters you from wind and rain (waterproof in some cases).
Types of outdoor trousers
Walking:
Walking trousers are a solid and dependable all-rounder. They're comfortable, lightweight and unrestrictive, with features such as articulated knees making challenging hikes that bit easier.
You'll be protected from the elements too; walking trousers are usually treated with a water-repellent coating to keep you dry in light showers.
One thing walking trousers aren't equipped for is winter weather. If you're heading out on a chilly day, we recommend that you go with something heavier; softshell trousers are a good option as they offer decent levels of insulation, without sacrificing mobility.
Waterproof:
Rain is somewhat inevitable when you head into the UK countryside, so waterproof trousers are just what's needed to keep your legs bone dry. There are two types to choose from; 2+ layer trousers and overtrousers.
2+ layer trousers:
The outer layer of these trousers is what makes them waterproof. The fabric used is anti-abrasive too, so you won't have to worry about rips and tears occurring as you charge your way through undergrowth and clamber over rocks.
The interior (usually fleece or mesh lined) features a breathable layer of insulation to keep you both warm and comfortable when temperatures drop.
Overtrousers:
If you're about to get caught in a sudden downpour, overtrousers are the perfect choice. Simply throw them on over your existing trousers for instant waterproofing. They pack down small, so you can easily keep them in your bag ready for the next weather emergency.
Convertible / Zip-off:
It can be hard to choose what to wear when temperatures fluctuate between hot and cold. When the things are a bit up and down, we suggest that you give convertible zip-off trousers a go.
As with other outdoor trousers, they're constructed from durable fabrics that provide excellent weather resistance and body moisture control. However, the real selling point of zip-off trousers is the ability to change from trousers to shorts (and back again), allowing you to instantly match your outfit to the conditions.
Softshell:
In terms of warmth and comfort, you can't look far beyond a pair of softshell trousers.
The fabrics used in the construction of softshell trousers are heavier than most, but they're stretchy and breathable enough for a range of physical activities.
They'll provide you with a decent level of protection from the elements too. They're well-insulated, UV protective and water-resistant, so able to handle most conditions.
Leggings:
Leggings are a tight-fitting option for anyone that's looking for versatile activewear suited to cold weather. The insulation that leggings provide is especially useful as it doesn't come at the expense of breathability. By sitting tight on the skin, the fabric is able to draw moisture away from the body without letting cold air in.
You don't need to worry about the snug fit restricting your movement either; the material is designed to stretch and bend with your body as you move.
When should I wear outdoor trousers?
With so many types of outdoor trousers available, the opportunities are pretty much endless. If you're not sure what to wear and when, we recommend that you focus on two key factors; the activity, and the weather conditions.
By picking the right trousers for the occasion, you'll be able to avoid serious discomfort. It's an important decision to make, so to help you out we've suggested suitable trouser types for each of the activities listed below.
Lowland walking:
When it comes to this sort of activity, distance will determine what's required. If it's just a short stroll, then jeans should be fine, but walking trousers are recommended if you're going further than 3 miles, as that's when the chafing is likely to start.
Winter walking:
Softshell trousers are a great option if you're out walking in the cold. They're relatively thick with a decent level of insulation to trap air and retain body heat. Although softshell trousers aren't waterproof, they'll do a pretty good job at sheltering you from the wind and rain too.
Hiking:
Standard walking trousers are suitable for most terrains and conditions. However, if you're hiking in rain, sleet or snow, grab yourself a pair of waterproof trousers to keep your legs dry.
Scrambling:
When there are rocks, boulders and bushes to contend with, you want a pair of trousers that are both flexible and robust. Softshell trousers are just that; they offer unrestricted movement as well as protection from abrasion, snags and tears.
Travelling:
If you're looking to travel light, zip-off trousers should be in your backpack. They're super-lightweight and give you two options straight off the bat. Change between shorts and trousers without rooting around for a different pair. Perfect for fluctuating weather conditions.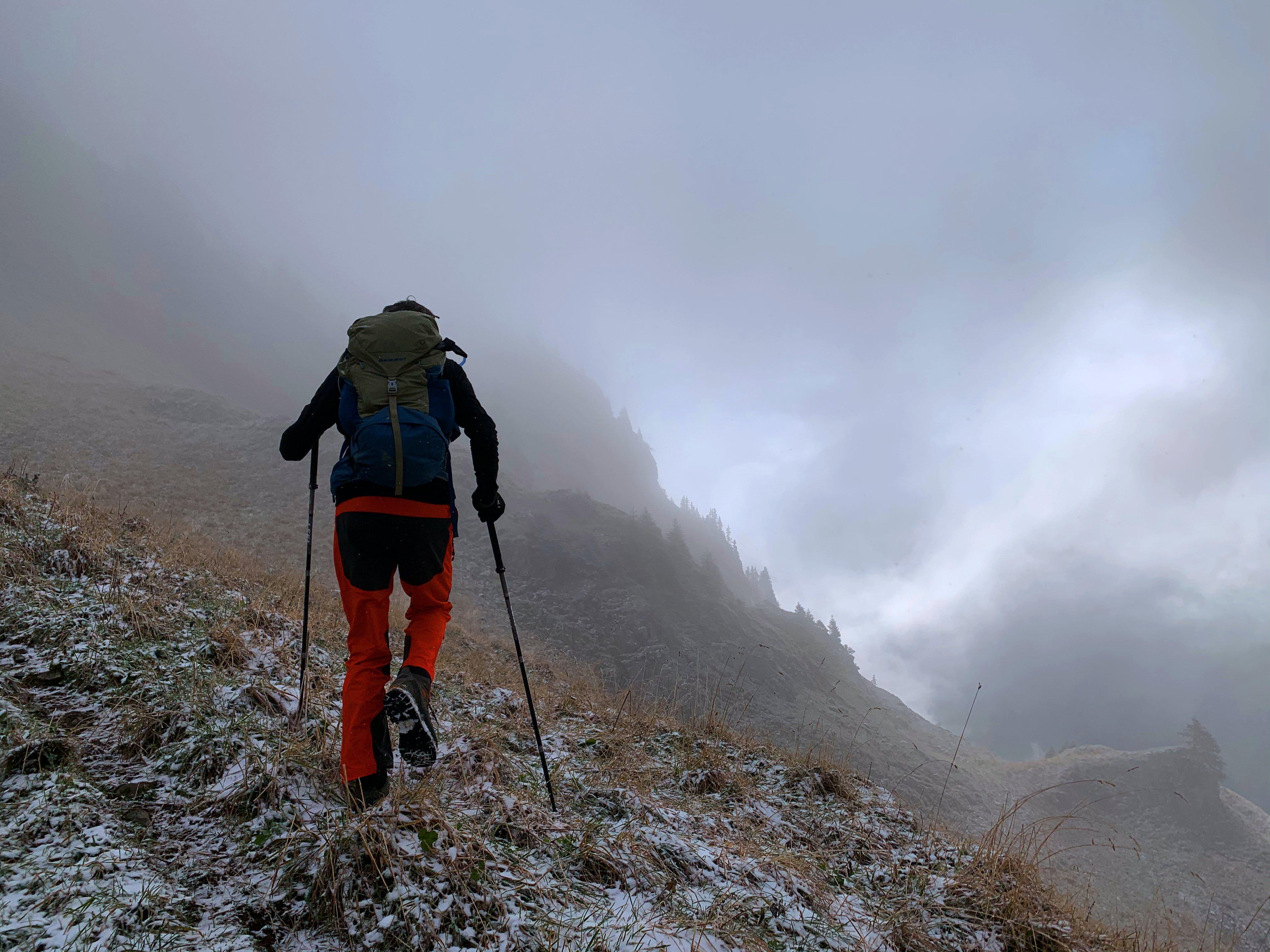 How should outdoor trousers fit?
A straight leg fit is common as it helps prevent friction and subsequent skin irritation. Some outdoor trousers will have a gusseted crotch too for better shape, flexibility and durability. Look out for articulated knees as well; these allow your knees to bend in a natural motion, giving you the mobility you need for walking, hiking and climbing.
Adjustability is a key trait of outdoor trousers too. In addition to the usual waist adjustment, there are handy ankle cuffs to prevent water and cold air sneaking in.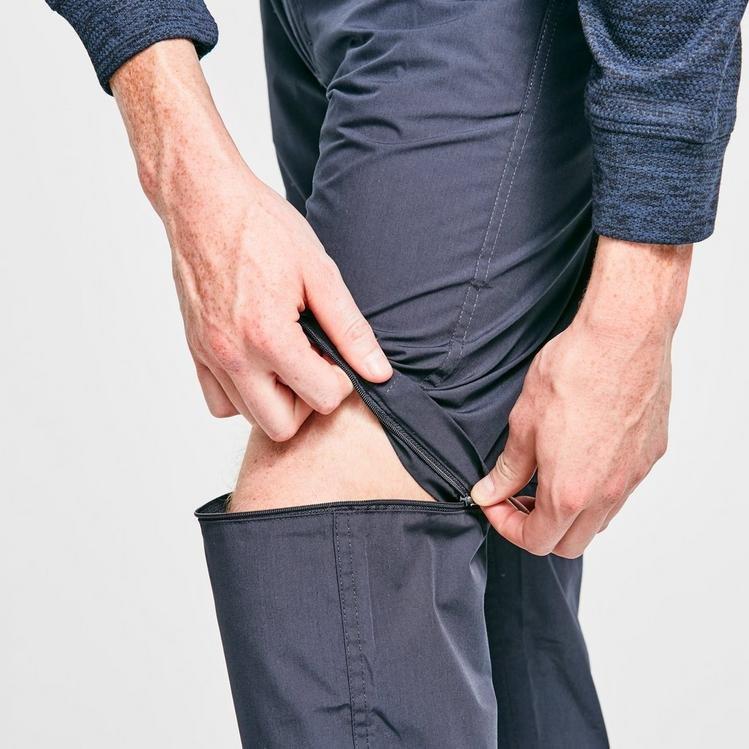 Washing your outdoor trousers
Washing outdoor trousers is straightforward as most types are machine washable. Pop them in the machine at 30-degrees with a non-bio detergent for the best results. Instructions may vary though so be sure to check the care label first.
Additionally, waterproof trousers can be treated with specialist cleaning and proofing products to prolong effectiveness.
Add a practical pair of trousers to your outdoor kit list by shopping our collection online and in-store.