With an increasing number of hikers adopting ultralight backpacking beliefs, traditional backpacking gear lists are being abandoned in favour of streamlined alternatives that are lighter in weight and more practical for everyday life outdoors.
Allow us to guide you through all the basic ultralight kit you'll need, along with some hand-picked product recommendations and a useful printable kit list to help you pack for your next adventure.
How much should my ultralight backpacking kit weigh?
The joy of ultralight backpacking is being able to carry everything you need to self-sustain for the duration of your trip on your back. There's no set weight limit, but we recommend setting yourself a target of 20% of your body weight.
What to pack for an ultralight camping trip
Any experienced ultralight backpacker would tell you that preparation is key. Most beginners set off with a kit list as long as their arm and slowly reduce it by removing any items they didn't use after each trip. Thankfully, we've done a lot of that work for you with our Essential Ultralight Backpacking Gear Checklist (PDF). As the name suggests, we've whittled it down to the bare essentials, but there's a blank section for you to add your own lightweight luxuries.
The Big Four
The biggest weight and space savings can be made from the four biggest and heaviest items of kit – makes sense, right? The big four consists of the tent, backpack, sleeping bag and sleeping mat. They are the four pillars of the camping kit list that can not be removed. For many years now, leading outdoor brands have continued to spend a lot of their time and energy coming up with ways to make these products lighter without damaging their performance. Here are some of the best lightweight camping products available now.
Lightweight Tent
Your tent is the biggest piece of kit that you'll be bringing along to your ultralight adventure, but it's also the most important. Whilst it's key to cut down on weight and pack space, you also need to make sure your tent is suitable for the season that you're camping in and has enough room to store you and your kit.
The OEX Bobcat 1 Person Tent (1.9kg) is a superb solo tent that offers a sturdy waterproof shelter with enough porch space to store your backpack and muddy boots. Breathable polyester inner fabric prevents condensation and the tent pitches in just a few minutes. Looking for more space and to bring along a friend? A great option is the Berghaus Cheviot 2 Tent (3.05kg). The compromise is the increased wieght and larger pack size but the semi-geodesic structure delivers superior strength and a great space to weight ratio.
Ultralight Backpack
One mistake you don't want to make is trying to save weight by buying a backpack that's too small. Instead, try to find a spacious pack made from lightweight materials like the Lowe Alpine Escape Trek 60:70 Rucksack (2.1kg) or the Osprey Women's Aura AG 65 Backpack (2.08kg). Compression straps will help you keep your kit secure when it's on your back, and external lash points and webbing offer additional storage for bigger pieces of kit like your roll mat.
Weight may be your main priority, but don't neglect comfort. Both of the packs listed above have advanced back systems with exceptional load-bearing capabilities. In essence, they make you feel like you're carrying a lot less weight than you actually are.
Pro tip - Look out for any removable features that you might not need such as lids and hip belts. They will trim vital grams!
Lightweight Sleeping Bag
As with tents, it's important to pick the right bag for the right season. All sleeping bags are given a season rating between one and five. If you're not sure what each rating means, here's a handy sleeping bag buying guide that helps to explain it. Unless you plan to camp in extreme cold conditions, you should aim to keep a one-person sleeping bag under 1.5kg.
From spring through to autumn, the Vango Ultralite Pro 200 (1.1kg) will provide ample warmth and comfort without weighing you down. Its Thermal-Reverb technology allows it to trap escaping warmth and reflect it back into the sleeping bag. It also comes in a compression stuff sack to save space in your pack. If you're heading out in early winter, the Pro 200's big brother, VANGO Ultralite Pro 300 (1.35kg), is a 3-4 season bag that will keep you comfortable in sub-zero conditions.
Lightweight Sleeping Mat
Your sleeping mat provides essential insulation from the cold ground beneath you to keep you warm. The Multimat Backpacker 3-Season Roll Mat (250g) will strap to the webbing of your backpack for convenient storage, but for extra comfort you could opt for an inflating mat like the OEX Traverse IMX Inflatable Sleeping Mat (410g).
When it comes to inflating your mat, we recommend the Sea to Summit Air Stream Pump Dry Sack (62g). It will inflate your mat in just one breath and doubles up as a dry sack to keep all of your clothes protected in wet weather. It also helps you save room in your pack by stuffing your clothes in tight.
Pro-tip – dry sacks make fantastic makeshift pillows if you stuff them with soft clothing.
10 Lightweight Camping Tips
If you're still looking to ease the load and cut a few more grams from your kit, here are some handy tips we've picked up on our travels.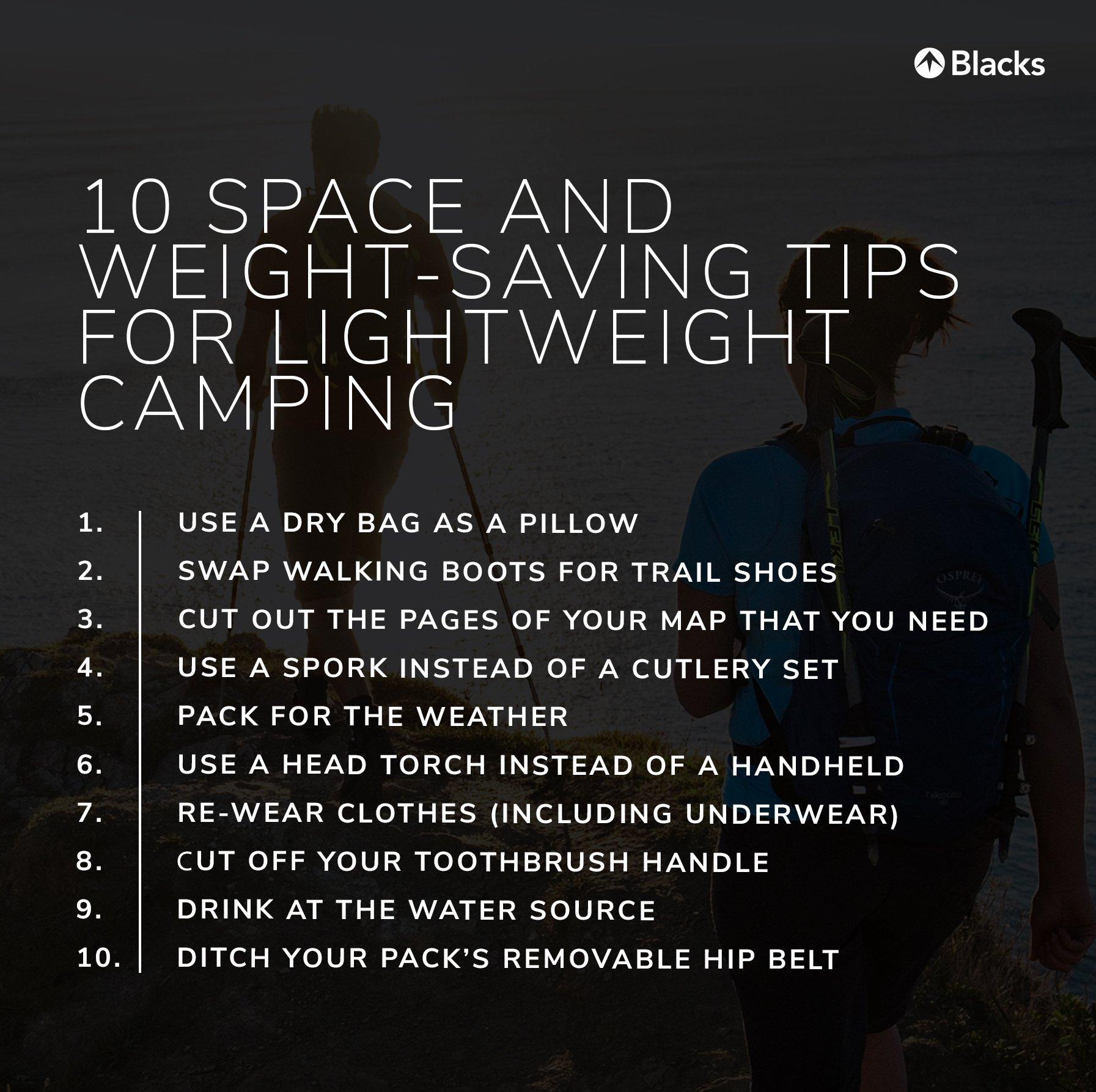 1. Use a dry bag as a pillow
2. Swap walking boots for trail shoes
3. Cut out the pages of your map that you need
4. Use a spork instead of a cutlery set
5. Pack for the weather
6. Use a head torch instead of a handheld
7. Re-wear clothes (including underwear)
8. Cut off your toothbrush handle
9. Drink at the water source
10. Ditch your pack's removable hip belt
Ready to explore? Share your ultralight camping experiences with us in the comments or on our social media pages below. We'd love to hear of any more space and weight saving ideas you come across.