When Wiktor Haglof began crafting backpacks in a small cabin in Darlarna, it sparked a mission to set a new standard in craftsmanship; plus, a commitment to creating outdoor gear that both supports and inspires outdoor adventure.
From humble beginnings, Haglofs now has over a century of success creating technical product which is sourced and manufactured responsibly for everyone to experience the outdoors, whatever the weather. Let's take a look behind the brand.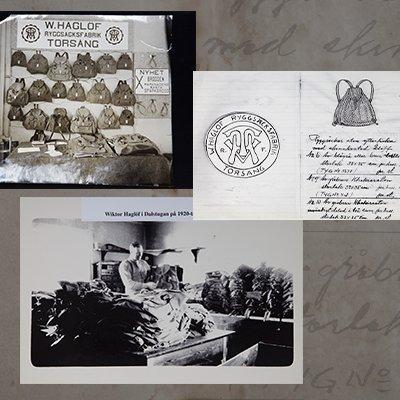 The Beginnings of Haglofs
In 1914, a Swedish carpenter called Wiktor Haglof set about making a backpack that could withstand tough terrain, challenging conditions and the long journeys he regularly took through the country. From a small cabin on his family's farm in Torsang, Dalarna, Wiktor worked with the lady next door who owned a sewing machine to construct his new backpack concept; finishing it with leather straps and buckles. Wiktor then set about traversing the local area, selling his backpacks to farmers, lumberjacks and schoolchildren.
The new backpack was an instant hit and word quickly spread. It marked the start of Wiktor's business and as demand grew, he moved from his family's farm in 1919 in search of a bigger property, settling in Torsang with a beautiful view of the Dalaven river. The business began hiring its first employees including a salesman, who bicycled around with sample Haglofs products.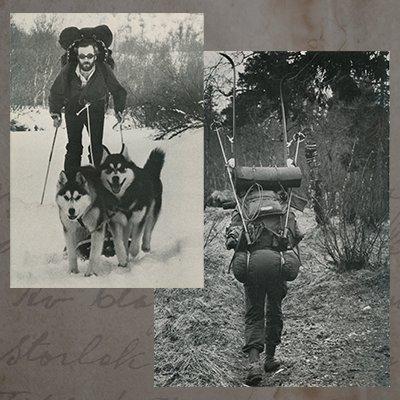 A Fledgling Business is Born
Demand for these quality handcrafted backpacks exploded in the 1930s and Wiktor responded by constructing a factory on his land, allowing the production process of Haglofs gear to become more industrialised. The one-time carpenter set about developing a number of new backpack designs and related products, including an innovative backpack that could be changed into a seat with one simple operation, and a child carrier chair.
By 1945, Wiktor had both of his sons working for him, who ten years later took over the business as Haglofs backpacks were being sold across Sweden. They continued Wiktor's mission to create the finest goods for people working and living outdoors. Key clients for the business included the Swedish Armed Forces and a growing Scout movement. The Haglofs team began to name its backpacks, finding inspiration from nature or activities related to outdoor life – a tradition Haglofs still carries on today. Some of Haglofs most iconic backpacks include the Alaska, Gronland and Skarja.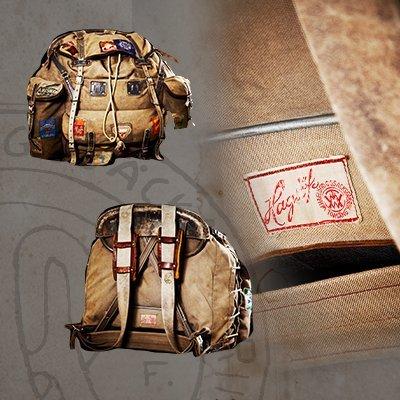 Time for a Change
The Haglof family sold the business in 1975. Key figures Mats Hedblom (Product Manager) and Ove Edtrom (CEO) streamlined the business and set out their plan to create "…a brand that meets today's needs for products with high functionality, good design and value-for-price for people who are investing in an active outdoor life". This remains engrained in Haglofs DNA to this day.
By the end of the 80s, the Haglofs brand consisted of backpacks, a few sleeping bags, tents and selected footwear. After a period of intense product development, the business moved more in line with the ambitions of Mats and Ove and the company entered a new phase during which it expanded its product range, calling itself officially an outdoor company. The early 90s saw the huge success of the classic Tight backpack, a new series of clever marketing concepts including "Save money – buy more expensive clothing", and the introduction of GORE-TEX® licencing into its clothing range. These advancements set out the stall for the modern-day Haglofs brand as it expanded into the European market.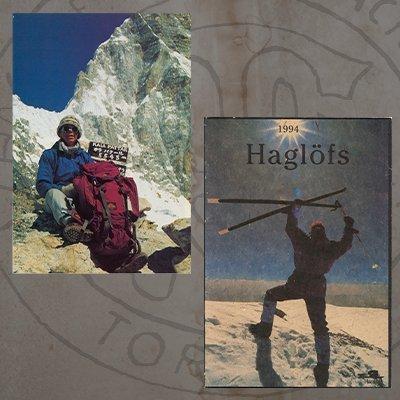 A Sustainable Future
Since the mid-2000s, Haglofs has put greater emphasis on responsible product production and quality craftsmanship - core principles for the brand. Haglofs for over a decade has been championing sustainability and its latest product collections showcase their drive 'to ensure the outdoors will still be there for future generations to explore'. As the brand launches their new collection into Blacks, let's take a look at a few of the pieces we're most excited about.
Available for both Men and Women, this sleek and stylish waterproof jacket is built for street level and mountain slope adventures, boosted by impressive sustainable credentials. It's crafted from next generation recycled 2-layer PROOF™ fabric which a fluorocarbon-free Durable Water Repellent finish for extra wet weather protection. Bluesign® approved certifies this jacket meets the highest environmental standards for textiles. It looks right at home in the urban jungle or scaling a hillside.
The name says it all. These dependable outdoor trousers are engineered to battle through challenging conditions. Manufactured from highly durable polyamide fabric, these trousers feature stretch and FlexAble™ panels in the over seat and knees for extra flex and comfort. This puts the flex where you need it most without compromising toughness. Bluesign® approved, these trousers come complete with a fluorocarbon-free Durable Water Repellent finish for sustainable outdoor performance.
Delivering gold-standard insulation sustainably within a stripped back Scandi-silhouette, this premium layer is ideal for alpine adventures. It's core is filled with Mimic Gold, a unique recycled synthetic insulation engineered to mimic the performance of down. Non-quilted sections provide extra stretch while the hardwearing Pertex® shell fabric has a flurocarbon-free DWR to protect both you and the planet. This premium performance jacket is completed with a peaked hood and selection of pockets.